You are viewing v4.15.0 version.
A newer version v4.33.3 is available.
🤗 Transformers
State-of-the-art Machine Learning for Jax, Pytorch and TensorFlow
🤗 Transformers (formerly known as pytorch-transformers and pytorch-pretrained-bert) provides thousands of pretrained models to perform tasks on different modalities such as text, vision, and audio.
These models can applied on:
📝 Text, for tasks like text classification, information extraction, question answering, summarization, translation, text generation, in over 100 languages.
🖼️ Images, for tasks like image classification, object detection, and segmentation.
🗣️ Audio, for tasks like speech recognition and audio classification.
Transformer models can also perform tasks on several modalities combined, such as table question answering, optical character recognition, information extraction from scanned documents, video classification, and visual question answering.
🤗 Transformers provides APIs to quickly download and use those pretrained models on a given text, fine-tune them on your own datasets and then share them with the community on our model hub. At the same time, each python module defining an architecture is fully standalone and can be modified to enable quick research experiments.
🤗 Transformers is backed by the three most popular deep learning libraries — Jax, PyTorch and TensorFlow — with a seamless integration between them. It's straightforward to train your models with one before loading them for inference with the other.
This is the documentation of our repository transformers. You can also follow our online course that teaches how to use this library, as well as the other libraries developed by Hugging Face and the Hub.
If you are looking for custom support from the Hugging Face team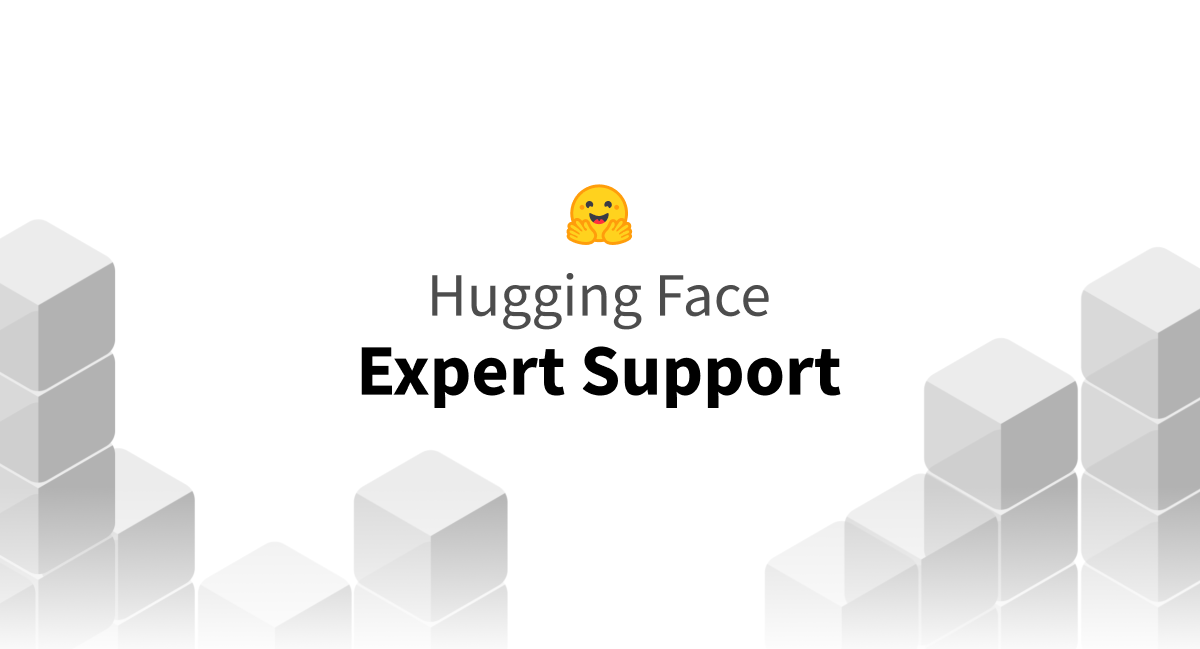 Features
Easy-to-use state-of-the-art models:

High performance on natural language understanding & generation, computer vision, and audio tasks.
Low barrier to entry for educators and practitioners.
Few user-facing abstractions with just three classes to learn.
A unified API for using all our pretrained models.

Lower compute costs, smaller carbon footprint:

Researchers can share trained models instead of always retraining.
Practitioners can reduce compute time and production costs.
Dozens of architectures with over 20,000 pretrained models, some in more than 100 languages.

Choose the right framework for every part of a model's lifetime:

Train state-of-the-art models in 3 lines of code.
Move a single model between TF2.0/PyTorch/JAX frameworks at will.
Seamlessly pick the right framework for training, evaluation and production.

Easily customize a model or an example to your needs:

We provide examples for each architecture to reproduce the results published by its original authors.
Model internals are exposed as consistently as possible.
Model files can be used independently of the library for quick experiments.
All the model checkpoints are seamlessly integrated from the huggingface.co model hub where they are uploaded directly by users and organizations.
Current number of checkpoints:
Contents
The documentation is organized in five parts:
GET STARTED contains a quick tour, the installation instructions and some useful information about our philosophy and a glossary.

USING 🤗 TRANSFORMERS contains general tutorials on how to use the library.

ADVANCED GUIDES contains more advanced guides that are more specific to a given script or part of the library.

RESEARCH focuses on tutorials that have less to do with how to use the library but more about general research in transformers model

API contains the documentation of each public class and function, grouped in:

MAIN CLASSES for the main classes exposing the important APIs of the library.
MODELS for the classes and functions related to each model implemented in the library.
INTERNAL HELPERS for the classes and functions we use internally.
The library currently contains Jax, PyTorch and Tensorflow implementations, pretrained model weights, usage scripts and conversion utilities for the following models.
Supported models
Supported frameworks
The table below represents the current support in the library for each of those models, whether they have a Python tokenizer (called "slow"). A "fast" tokenizer backed by the 🤗 Tokenizers library, whether they have support in Jax (via Flax), PyTorch, and/or TensorFlow.
| Model | Tokenizer slow | Tokenizer fast | PyTorch support | TensorFlow support | Flax Support |
| --- | --- | --- | --- | --- | --- |
| ALBERT | ✅ | ✅ | ✅ | ✅ | ✅ |
| BART | ✅ | ✅ | ✅ | ✅ | ✅ |
| BEiT | ❌ | ❌ | ✅ | ❌ | ✅ |
| BERT | ✅ | ✅ | ✅ | ✅ | ✅ |
| Bert Generation | ✅ | ❌ | ✅ | ❌ | ❌ |
| BigBird | ✅ | ✅ | ✅ | ❌ | ✅ |
| BigBirdPegasus | ❌ | ❌ | ✅ | ❌ | ❌ |
| Blenderbot | ✅ | ✅ | ✅ | ✅ | ✅ |
| BlenderbotSmall | ✅ | ✅ | ✅ | ✅ | ✅ |
| CamemBERT | ✅ | ✅ | ✅ | ✅ | ❌ |
| Canine | ✅ | ❌ | ✅ | ❌ | ❌ |
| CLIP | ✅ | ✅ | ✅ | ❌ | ✅ |
| ConvBERT | ✅ | ✅ | ✅ | ✅ | ❌ |
| CTRL | ✅ | ❌ | ✅ | ✅ | ❌ |
| DeBERTa | ✅ | ✅ | ✅ | ✅ | ❌ |
| DeBERTa-v2 | ✅ | ❌ | ✅ | ✅ | ❌ |
| DeiT | ❌ | ❌ | ✅ | ❌ | ❌ |
| DETR | ❌ | ❌ | ✅ | ❌ | ❌ |
| DistilBERT | ✅ | ✅ | ✅ | ✅ | ✅ |
| DPR | ✅ | ✅ | ✅ | ✅ | ❌ |
| ELECTRA | ✅ | ✅ | ✅ | ✅ | ✅ |
| Encoder decoder | ❌ | ❌ | ✅ | ✅ | ✅ |
| FairSeq Machine-Translation | ✅ | ❌ | ✅ | ❌ | ❌ |
| FlauBERT | ✅ | ❌ | ✅ | ✅ | ❌ |
| FNet | ✅ | ✅ | ✅ | ❌ | ❌ |
| Funnel Transformer | ✅ | ✅ | ✅ | ✅ | ❌ |
| GPT Neo | ❌ | ❌ | ✅ | ❌ | ✅ |
| GPT-J | ❌ | ❌ | ✅ | ❌ | ✅ |
| Hubert | ❌ | ❌ | ✅ | ✅ | ❌ |
| I-BERT | ❌ | ❌ | ✅ | ❌ | ❌ |
| ImageGPT | ❌ | ❌ | ✅ | ❌ | ❌ |
| LayoutLM | ✅ | ✅ | ✅ | ✅ | ❌ |
| LayoutLMv2 | ✅ | ✅ | ✅ | ❌ | ❌ |
| LED | ✅ | ✅ | ✅ | ✅ | ❌ |
| Longformer | ✅ | ✅ | ✅ | ✅ | ❌ |
| LUKE | ✅ | ❌ | ✅ | ❌ | ❌ |
| LXMERT | ✅ | ✅ | ✅ | ✅ | ❌ |
| M2M100 | ✅ | ❌ | ✅ | ❌ | ❌ |
| Marian | ✅ | ❌ | ✅ | ✅ | ✅ |
| mBART | ✅ | ✅ | ✅ | ✅ | ✅ |
| MegatronBert | ❌ | ❌ | ✅ | ❌ | ❌ |
| MobileBERT | ✅ | ✅ | ✅ | ✅ | ❌ |
| MPNet | ✅ | ✅ | ✅ | ✅ | ❌ |
| mT5 | ✅ | ✅ | ✅ | ✅ | ✅ |
| OpenAI GPT | ✅ | ✅ | ✅ | ✅ | ❌ |
| OpenAI GPT-2 | ✅ | ✅ | ✅ | ✅ | ✅ |
| Pegasus | ✅ | ✅ | ✅ | ✅ | ✅ |
| Perceiver | ✅ | ❌ | ✅ | ❌ | ❌ |
| ProphetNet | ✅ | ❌ | ✅ | ❌ | ❌ |
| QDQBert | ❌ | ❌ | ✅ | ❌ | ❌ |
| RAG | ✅ | ❌ | ✅ | ✅ | ❌ |
| Reformer | ✅ | ✅ | ✅ | ❌ | ❌ |
| RemBERT | ✅ | ✅ | ✅ | ✅ | ❌ |
| RetriBERT | ✅ | ✅ | ✅ | ❌ | ❌ |
| RoBERTa | ✅ | ✅ | ✅ | ✅ | ✅ |
| RoFormer | ✅ | ✅ | ✅ | ✅ | ❌ |
| SegFormer | ❌ | ❌ | ✅ | ❌ | ❌ |
| SEW | ❌ | ❌ | ✅ | ❌ | ❌ |
| SEW-D | ❌ | ❌ | ✅ | ❌ | ❌ |
| Speech Encoder decoder | ❌ | ❌ | ✅ | ❌ | ❌ |
| Speech2Text | ✅ | ❌ | ✅ | ❌ | ❌ |
| Speech2Text2 | ✅ | ❌ | ❌ | ❌ | ❌ |
| Splinter | ✅ | ✅ | ✅ | ❌ | ❌ |
| SqueezeBERT | ✅ | ✅ | ✅ | ❌ | ❌ |
| T5 | ✅ | ✅ | ✅ | ✅ | ✅ |
| TAPAS | ✅ | ❌ | ✅ | ✅ | ❌ |
| Transformer-XL | ✅ | ❌ | ✅ | ✅ | ❌ |
| TrOCR | ❌ | ❌ | ✅ | ❌ | ❌ |
| UniSpeech | ❌ | ❌ | ✅ | ❌ | ❌ |
| UniSpeechSat | ❌ | ❌ | ✅ | ❌ | ❌ |
| Vision Encoder decoder | ❌ | ❌ | ✅ | ❌ | ✅ |
| VisionTextDualEncoder | ❌ | ❌ | ✅ | ❌ | ✅ |
| VisualBert | ❌ | ❌ | ✅ | ❌ | ❌ |
| ViT | ❌ | ❌ | ✅ | ✅ | ✅ |
| Wav2Vec2 | ✅ | ❌ | ✅ | ✅ | ✅ |
| WavLM | ❌ | ❌ | ✅ | ❌ | ❌ |
| XLM | ✅ | ❌ | ✅ | ✅ | ❌ |
| XLM-RoBERTa | ✅ | ✅ | ✅ | ✅ | ❌ |
| XLMProphetNet | ✅ | ❌ | ✅ | ❌ | ❌ |
| XLNet | ✅ | ✅ | ✅ | ✅ | ❌ |